Healing Humanity Seamoss & Bladderwrack Capsules
$

42.42 Sold Out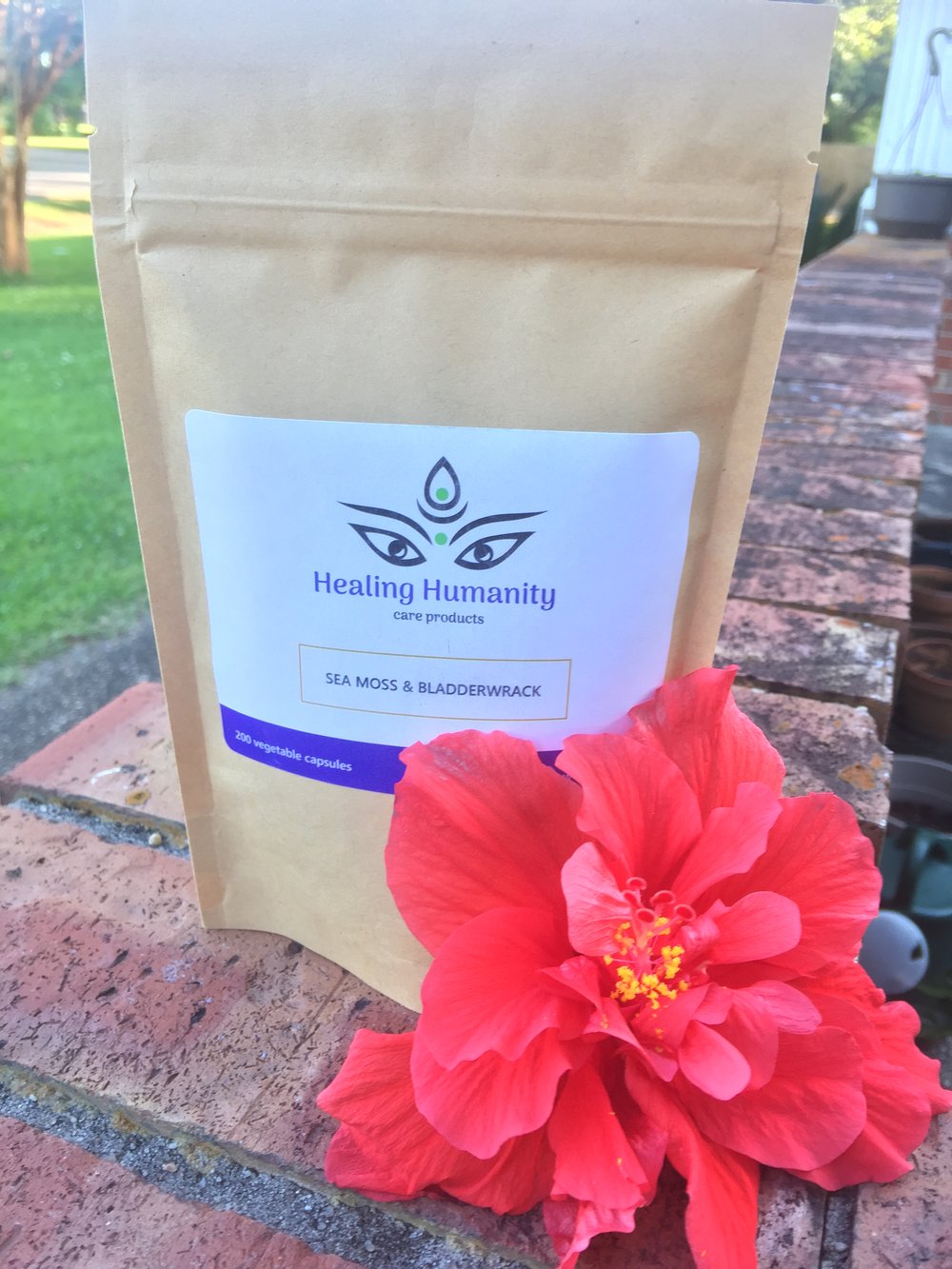 PLEASE BE AWARE THAT DUE TO COVID19 SHIPPING IS LONGER THAN USUAL-PLEASE DO NOT ORDER IF YOU CANNOT BE PATIENT.
FREE SHIPPING ALWAYS!
Dr. Sebi taught that mucus causes disease and that disease can not exist in an alkaline environment. An acidic body leads to mucus which leads to chronic inflammation that eventually leads to chronic illness and diseases such as cancer.
-200 capsules-double the quantity than most on market
-600 mg- higher dosage than most on the market
-NO FILLERS-PURE PLANT MATERIAL
-VEGETARIAN CAPSULES
How to take:
Take up to 3 capsules in the morning and 3 capsules in the evening.
PRECAUTIONS
Specific: Seaweeds contain naturally high levels of iodine. This product is harvested from the sea. Consumption of this product may cause a serious or life-threatening reaction in persons with allergies to fish or shellfish.
General: We recommend that you consult with a qualified healthcare practitioner before using herbal products, particularly if you are pregnant, nursing, or on any medications.
If you have HYPERTHYROIDISM DO NOT TAKE. Your body is already making excess hormones and supplements with bladderwrack will increase further.
Sea moss, or Irish moss, is a sea vegetable that grows on coral rock. Divers have to go underwater to harvest it. Popular for its anti-viral properties, it's been used throughout world for decades. For some cultures,, it's become the standard method in helping those suffering from malnutrition.
It features over 90 essential minerals(our bodies require 102!)
including selenium, calcium, potassium and magnesium. It's also abundant in Vitamins D, F, A, E and K. Useful in boosting overall health, the benefits of sea moss most commonly include:
Fights iron deficiency
Dissolves mucus
Improves mental health
Reduces effects of radiation
Aids in weight loss
Irish moss is a source of potassium chloride, a nutrient which helps to dissolve catarrhs (inflammation and phlegm in the mucous membranes), which cause congestion. It contains compounds which act as a natural antimicrobial and antiviral agents, helping to boost immunity and get rid of any infections.
Bladderwrack is a type of seaweed. People use the whole plant to make medicine.
Bladderwrack is used for thyroid disorders including:
underactive thyroid(myxedema)
over-sized thyroid gland (goiter)
iodine deficiency
obesity
arthritis
joint pain
"hardening of the arteries" (arteriosclerosis)
digestive disorders
heartburn
blood cleansing
constipation
bronchitis
emphysema
urinary tract disorders
anxiety
Other uses include boosting the immune system and increasing energy.
Some people also apply bladderwrack to the skin for skin diseases, burns, aging skin, and insect bites.
Don't confuse bladderwrack with bladderwort.
"These statements have not been evaluated by the Food and Drug Administration. This product is not intended to diagnose, treat, cure, or prevent any disease."
Share